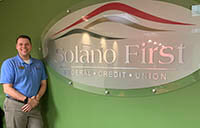 Jared Neumayr
AVP of Member Services
Solano First
Federal Credit Union
"Solano First has been serving Solano County residence for over 62 years and we are the only Credit Union that exclusively serves Solano County residences! For many of the years that we have been serving this community, we held a strong bond and connection with the Fairfield Suisun Chamber of Commerce. Although we paid our dues, we were not as active in participating in the chamber. This year, it became my priority to find out what the Fairfield-Suisun Chamber was all about.
Let me just say that the Fairfield-Suisun Chamber is so much more than just a place for businesses to connect. Since becoming involved, I have been exposed to so many individuals, entrepreneurs and businesses - real people with real needs! These are people who are community focused and driven to make Solano County an amazing place to live, work and serve. As businesses in Solano County, that is what we all do; serve our community!
It doesn't stop there… We run our Credit Union as a family and treat our Membership as such. The Fairfield-Suisun Chamber and their team do the same. They care about the businesses and the people they represent. Volunteering with the Chamber, I have not only built professional connections but also lifelong friendships. It is rewarding to know that I, and the business I represent, are once again a strong force promoting and working toward making Fairfield, Suisun and Solano County an amazing place to live, work and worship now and for years to come.
If you are a business or representing a business here in Solano County, I challenge you to join the Fairfield-Suisun Chamber and get involved! You won't regret it!"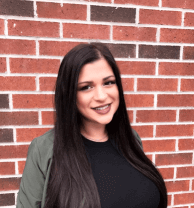 Kia Lutte
Office Manager
Jackson Medical Supply
"Jackson Medical Supply is a family-owned business that specializes in personalized, consultative sales from newborns to seniors. With having three locations in Vacaville, Woodland and Vallejo, all offering services such as having a registered nurse on staff, certified fitters, insurance assistance, patient instruction, special orders, and even deliveries and repairs.
I have been a proud representative of Jackson Medical Supply since 2008 and have grown up in a wonderful company that has taught me the importance of giving back. I value working for a company that strives to improve my community as well as offering the best customer service possible.
Being a member of the Fairfield-Suisun Chamber is something that our business takes immense pride in. And, as a small business, we know how important it is to support other local businesses to make this community we love thrive!
Becoming an Ambassador for the Fairfield-Suisun Chamber has not only helped Jackson Medical Supply grow, but it has also helped me grow as an individual. With the Leadership Today Program to Chamber Lunch Mobs and mixers, my professional connections have quickly become great friendships. I love and support the members of the Fairfield-Suisun Chamber of Commerce!"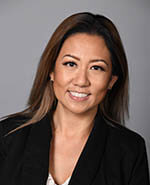 Kim Liew
Real Estate Broker Associate
Kim Liew Real Estate Group - RE/MAX Gold
"As a Real Estate Broker, I am always looking for different ways to connect with people on a personal basis. Through my own career path, I have had the privilege to meet some wonderful people whom I respect and admire. I am very fortunate to not only crossed paths with these individuals, but also able to seek their advice and guidance.
One of those wonderful people is David Islom, President of the Fairfield-Suisun Unified School District. It was during one of our meetings Mr. Islom asked me if I was a member of the Fairfield-Suisun Chamber of Commerce and shared how membership into the Chamber would greatly benefit my business. After briefly meeting with Tonya Dretzka, Director of Membership, and hearing the passion and dedication she had in her voice, I decided to become not only an active member but also a Citation Investor with Chamber.
I want to get better acquainted with the Chamber Members that support our community. I realize that in real estate, knowing your local business partners is just as important as knowing the markets you serve. Although my service area expands far beyond this Solano County area, I look forward to getting to know your community first and foremost.
Being an active member within this Chamber not only affords you the ability to meet and network with like-minded individuals, it can also take both you and your business to new heights. I would recommend to any business owner to meet with Tonya and become a member of the Fairfield-Suisun Chamber of Commerce."