The Fairfield Suisun Chamber of Commerce serves as the CATALYST for business growth; a CONVENER of leaders and influencers; and a CHAMPION for a stronger community.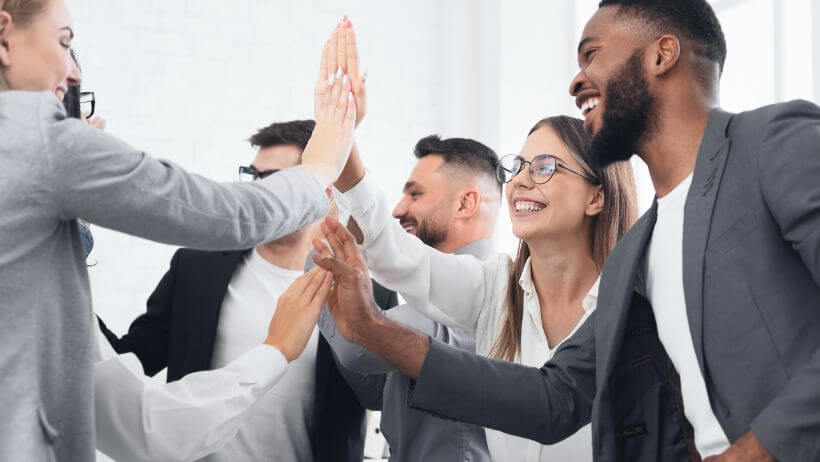 When you become a member of the Fairfield-Suisun Chamber of Commerce, you invest in your success, as well as the economic prosperity of the entire region.
Benefits Available at All Levels of Membership:
Highlight Your Brand Leverage the Chamber's community-wide reach to stand out and get noticed via popular Chamber publications, website, social media, and events.
Special Events & Networking Engage with influential policymakers and industry leaders while learning from subject matter experts at your choice of several events, programs, and meetings per year.
Stay Connected, Stay Informed Insights that help inform your business decisions, including real-time updates on legislation, ordinances, regulations, and taxes.
Talent Attraction Boost your company's recruiting efforts via free online job postings.
Access to The Chamber's Extensive Network Meet and establish relationships with business owners and decision-makers from various industries and sectors throughout Fairfield-Suisun and beyond. 
Shape Business Initiatives

Have a voice in shaping economic and business initiatives through Chamber Committee participation from your company.
Bottom Line Savings Programs Exclusive discounts with Member-to-Member deals, Certificates of Origin, access to our monthly "Business Edge" issue, and more.
The Classic membership is designed to foster growth of your business. It provides an essential platform to promote new business relationships, access marketing tools and provide opportunities to promote your business.
Growth:
Complimentary Admission to monthly after hours, mixers.
Member only pricing on several Chamber events held annually with networking and learning opportunities.
Visibility/Credibility:
KUIC Announcements broadcasting your new membership with the Chamber.
FREE Access to our Shop Where I Live Website where you can create a virtual storefront and sell products and services online $200 Value.
Display Business Cards in Chamber Lobby
Use of the Chamber's proud member logo for your company's website and marketing efforts.
Eligible to rent office or meeting space.
Access:
Receive key business friendly voter guide.
Access to Certificates of Origin at $75.00 per seal.
Savings:
FREE Document shredding during our annual Community Shred Day event.
With expansive face-to-face business engagement opportunities to broaden your network, and a variety of enhanced brand awareness tools, the Engage and Grow membership is for proactive businesses and organizations who are ready to take their business building to the next level.
Engage & Grow members receive all the benefits of the Classic investor plus the following value-added tools for success!
Growth:
Exclusive, Customer Referral Service
Free tabletop display at Chamber After Hours Mixer. $100 Value.
One Guest Pass for Each Chamber Mixer
Ribbon Cutting Ceremony for multiple occasions (grand opening, Anniversary, new location, etc.) $250 Value.
Visibility/Credibility:
Post YouTube and other social media through the chamber.
Electronic Chamber Lobby/Mixer Advertisement. $200 value
Eligible to Host a Chamber Mixer
Eligible to Host a Chamber Professional Development Program
Access:
Committee Participation (Excludes TRAFC)
With enhanced marketing tools and greater opportunities to promote your business, the Promoter level membership is for successful businesses looking for premier exposure and publicity to elevate their visibility and reach new markets.
Promoter members receive all the benefits of Classic and Engage & Grow investors plus additional resources designed for marketing & branding an enterprise like yours!
Growth:
Platinum Ribbon Cutting Ceremony (grand opening, anniversary, new location, etc.) includes pre-event social media promotion, opportunity for your company to supply a follow-up story for The Chamber Website, framed photo, and more. $599 Value.
Visibility/Credibility:
Four Top 5 Dedicated Promotion Inserts. $150 Value.
Free Access to Flyer Promotion in Chamber Business Edge Catalog. $150 Value.
10% off, 1/4 Ad in all 4 issues of The Voice of Business Magazine. $100.00 Value.
First access to VIP Sponsorship Levels at events (Where Available)
Access to Chamber member mailing list for direct mail or email marketing. $250 Value.
Host a Chamber Mixer at No Cost (1 Per Year)
Eligible for presentation time at a Chamber event.
The Advocate Membership puts your business among an elite group of companies who care about developing high-level relationships with businesses and civic decision-makers to grow their business, while also gaining a voice in the Chamber's efforts to build a strong economy and better quality of life in our region.
Advocate members receive all the benefits of the Classic, Engage & Grow, and Promoter investors plus the following additional opportunities to significantly grow your engagement with the business community!
Visibility/Credibility:
Guest Invitation to a Chamber Board of Director's Meeting.
15% off 1/2 Page Ad in all 4 issues of The Voice of Business Magazine. $330.00 Value.
Request a legislative letter to champion specific causes for your industry or areas of advocacy.
Access:
Exclusive eligibility to get involved and participate in the Chamber's Government Affairs (Advocacy) Council and play an active role in how the Chamber acts on local, state, and federal issues that impact the regional business community. 
Savings:
Unlimited Certificates of Origins at no additional cost.
Chairman's Circle memberships are for leading, community-oriented businesses and organizations that seek to invest in the region and are committed to unifying the voice of business. The Chairman's Circle members align with The Chamber's mission to provide leadership, education, and advocacy so that the Fairfield-Suisun thrives in the 21st century.
Chairman's Circle members receive all the benefits available at all levels of membership plus exclusive positioning and unique experiences while supporting our work to strengthen the regional economy! 
Growth:
Access to exclusive Invite-Only VIP gatherings and events. Exclusive!
Opportunity to provide VIP Logo visibility at all Chamber events. Exclusive!
Visibility/Credibility:
Recognition on the homepage of The Chamber website with a link to your website. Exclusive!
20% off Full-Page Ads in all 4 issues of The Voice of Business Magazine. $680.00 Value.
The opportunity to highlight the non-profit of your choice as part of a sponsorship of an annual marquis event. Exclusive!
Recognized in the Chamber's various media as a key Chamber & Community Stakeholder. Exclusive!
Access:
Chamber representation at city council, legislative hearings, and other community or county-level forums - As a Voice for Business.
The Investor membership is designed for stakeholders within the community who wish to play a significant role in shaping our community. Investor members receive a comprehensive range of benefits available at all membership levels, and most importantly, Investors can personalize their Chamber package based on their priorities.
The Investor memberships at the Fairfield-Suisun Chamber range from $50,000 to as low as $10,000. By becoming an Investor member, you can actively direct necessary resources to support the Chamber's initiatives that advance your specific objectives. These objectives can encompass areas such as workforce development, military, pipeline management, policy creation, lobbying, homelessness, and more. Your funding will make a significant impact on the business community of Fairfield-Suisun and those who live, work, and engage in activities here.
To discuss your objectives and determine how we can tailor your investment, please reach out to Jared Neumayr, President/CEO of the Fairfield-Suisun Chamber of Commerce. Jared can be contacted at (707) 425-4625 or via email at jared@fairfieldsuisunchamber.com.